Clip-Lock Syringe Shield 1ml
Available
shielding: 2 mm tungsten
lead time: 8 weeks

Tungsten syringe shield for 1 ml syringe with clip-lock to secure the syringe into position during the elution process. The anodized aluminum outside finishing optimizes the ability to decontaminate the syringe shield. The lead glass viewing window has a density of 5.2 and is large enough to provide good visibility of the syringe. This syringe shield has 2 mm tungsten shielding to provide excellent attenuation.
- Easy to decontaminate
- Good vision of syringe content
- Clip-lock security
Please use the dropdown menu below to select your required inside length and diameter to fit the syringes you use. If your syringes do not fit our standard sizes, please click here to contact us for the possibilites.
Product description
Available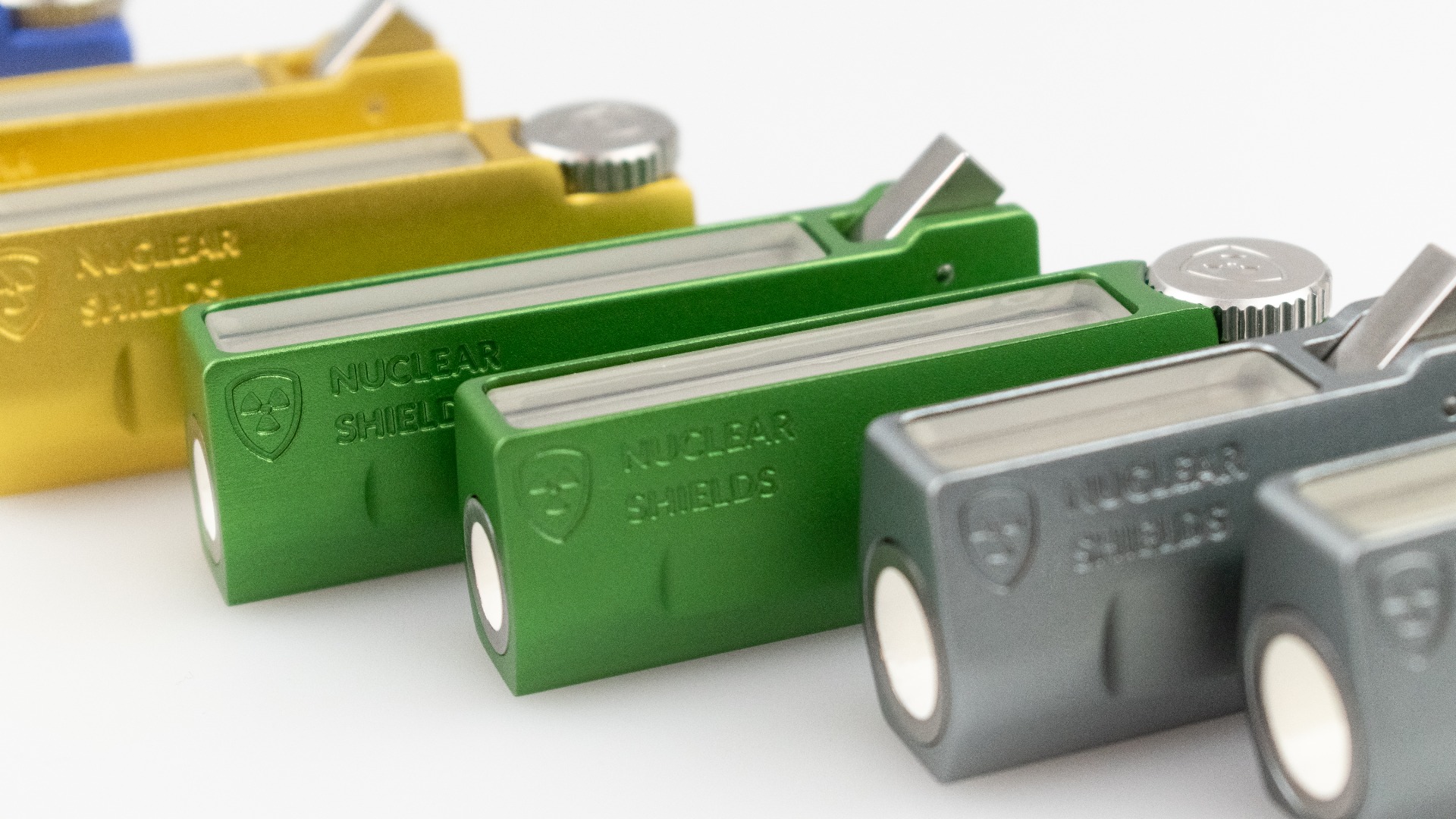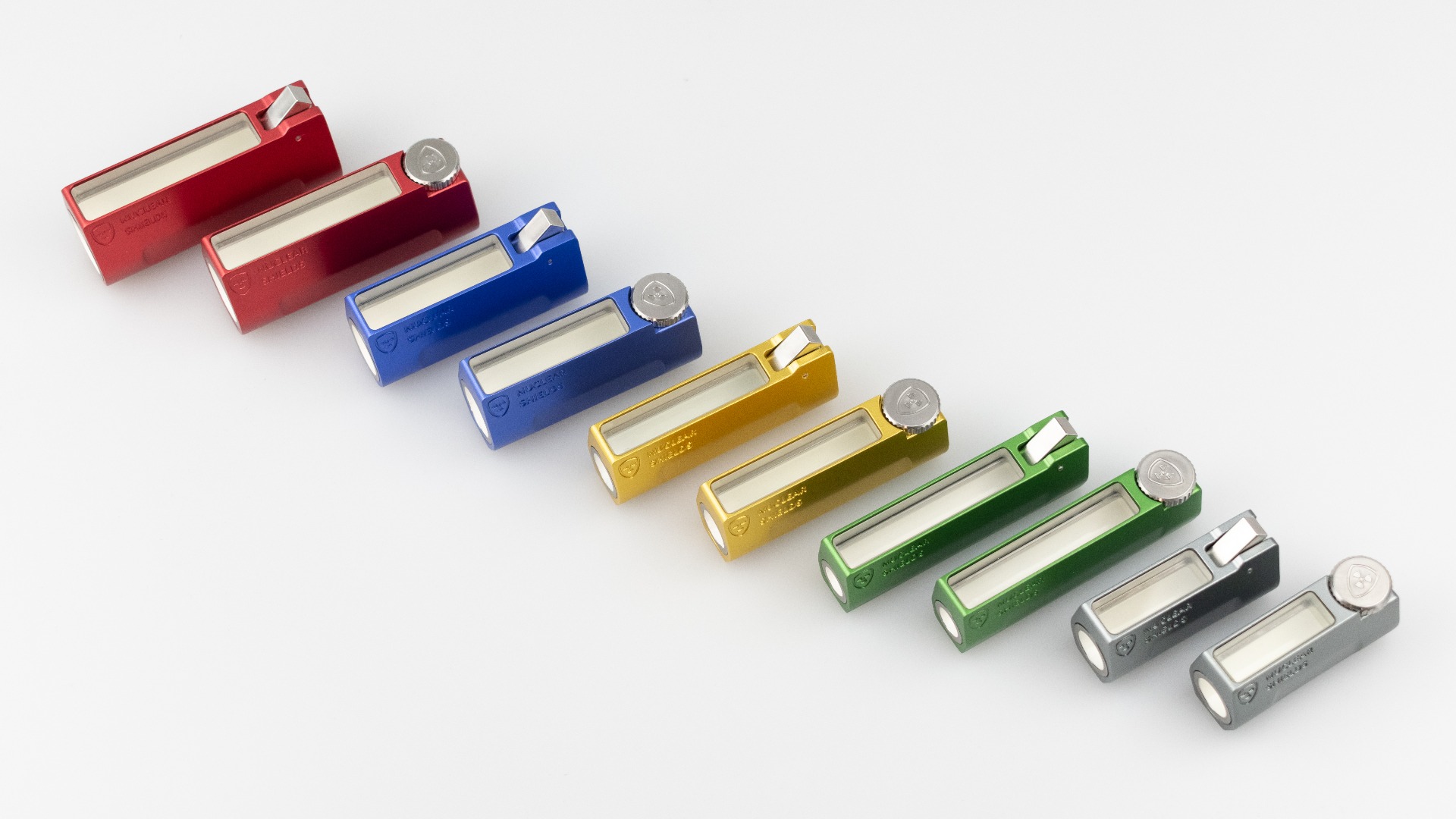 ---
Syringe shield models:
| Volume (ml) | Inner Diameter (mm) | Barrel Length (mm) | Big-Screw Model | Clip-Lock Model |
| --- | --- | --- | --- | --- |
| 1 | 8.8 | 72 | SS2BS1-1 | SS2CL1-1 |
| 1 | 8.8 | 76 | SS2BS1-2 | SS2CL1-2 |
| 1 | 11.5 | 76 | SS2BS1-3 | SS2CL1-3 |
| 2 | 11.5 | 53 | SS2BS2-4 | SS2CL2-4 |
| 2 | 11.5 | 60 | SS2BS2-5 | SS2CL2-5 |
| 3 | 11.5 | 65 | SS2BS3-6 | SS2CL3-6 |
| 3 | 11.5 | 69 | SS2BS3-7 | SS2CL3-7 |
| 5 | 15.4 | 61 | SS2BS5-8 | SS2CL5-8 |
| 5 | 15.4 | 65 | SS2BS5-9 | SS2CL5-9 |
| 5 | 15.4 | 68 | SS2BS5-10 | SS2CL5-10 |
| 10 | 18.2 | 75 | SS2BS10-11 | SS2CL10-11 |
| 10 | 18.2 | 85 | SS2BS10-12 | SS2CL10-12 |
Additional information
More Information

| | |
| --- | --- |
| Finishing material | Anodized aluminum (for optimization of decontamination) |
| Shielding material | Tungsten |
| Shielding thickness | 2 mm |
| Viewing window | Lead glass 5.2 density (54 x 12 x 10 mm) |
| Inside dimensions | 8.8 x 72 mm / 8.8 x 76 mm / 11.5 x 76 mm (diameter x length) |
| Volume | 1 ml |
| Weight | 0.15 Kg |
| Color | Green |
Other products you might need