Available
The DPU3 Monitor is the latest innovative instrument designed to provide the best possible user experience in Area Monitoring today. The DPU3 supports three external detectors and one internal detector, with automatic identification from a wide range of external detectors up to 100 meters distant to the Monitor.

The DPU3 can be powered directly from any AC source or Powered through POE. Radiation Data is sent from the DPU3 through any wireless medium or Ethernet cable. Color Coded background changes according to the radiation level, providing an excellent visual indication of the radiological conditions.

The DPU3 supports a wide range of external detectors.
Product description
Available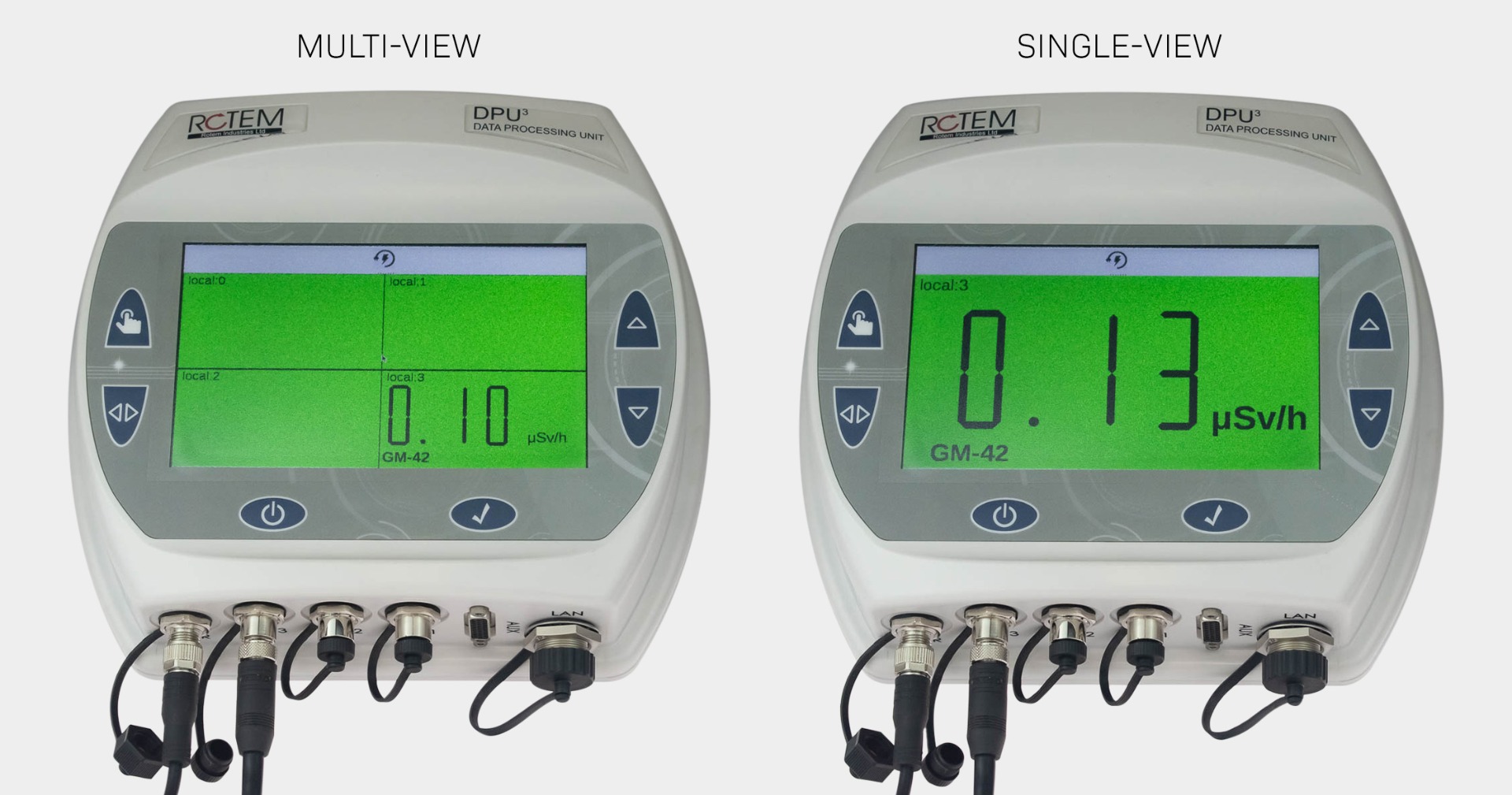 ---
Features of the DPU3 Area Monitor
- IP-65, Hardened, High Impact Plastic Casing
- Supports 1 internal and 3 external detectors
- Auto recognition of ALL Rotem, and other detectors
- Wall or Tabletop mounted
- Large 7" HD Graphic Display with Status icons
- Background Color on Display reflects dose rate according to thresholds
- Multicolored LED provides visual reference to threshold levels
- Internal and optional High Volume buzzers
- Up to 100 yards cable between Detector and Meter
- Powered by external Power 110/220 VAC or POE
- Contains a dry contact solenoid to activate external devices
- Accepts any 4-20mA input from external devices
- Advanced communication: TCP/IP, RS-485, Wi-Fi, Xbee…
- Setup/Diagnostics via RMVC software
- Saves up to 1 months data internally
- Direct connection to Computer or network via standard Ethernet cable
---
Technical data
Dimensions
230 x 76 x 252 mm, 1.7 Kg
Environmental
Weather proof IP-65, CE Certified
Electronics
Display:
7 inch HD display
CPU Mainboard
ARM Cortex®-A7 core
i.MX 6UltraLite (NXP)
GUI and communication
Firmware: Linux embedded
Updates available via TCP/IP
CPU Detectors
ARM® 32-bit
Cortex®-M3 CPU
Interface betweenInstrument and external Detectors
Updates available via TCP/IP
Internal detector:
Wide range GM tube based
Backup Battery
Capacity:
24 hours at battery routine
Charging time:
5 hours
I/O
3x external
detectors
Serial (RS-485) or Digitalpulse or Analogue pulse
AUX connector
D-Type 26 pin
RS-485 and 4-20 mA and External Power 24V and
optional light tower and Dry contact
Ethernet cable:
RJ-45
Dry Contact Solenoid
Alert Indicators
High volume buzzer:
(optional)
100 dB at 30 cm
Multicolored LED:
Colors: white, green, yellow, red, purple,
blue and turquoise
Telemetry Protocol
WRM2
Single package x 4