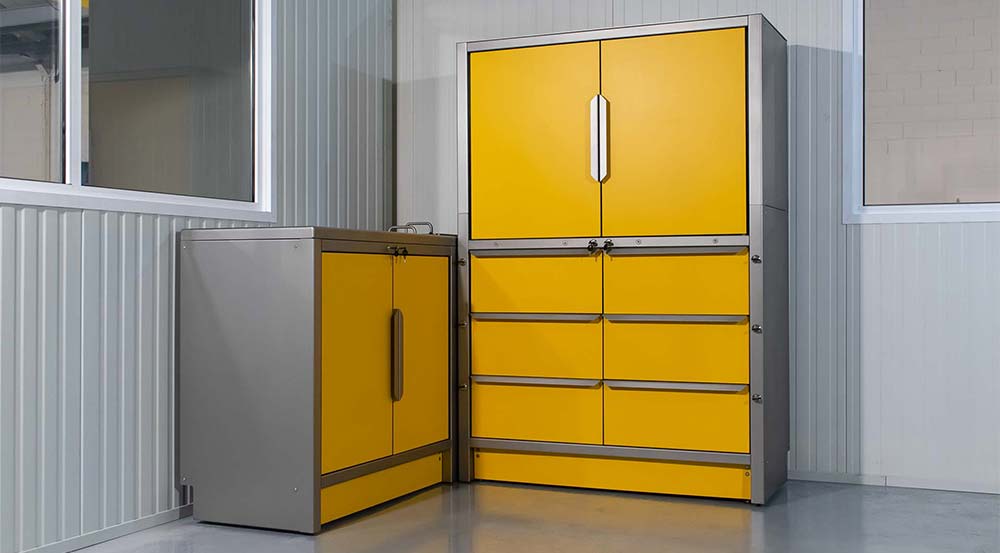 Nuclear Shields manufactures and designs lead shielded cabinets for various sectors. Our lead shielded cabinets are used in nuclear medicine, radiographic testing and other industries.
Information
Advantages of lead lined cabinets
Lead lined cabinets are ideal for the safe storage of radioactive materials when there is the need of frequent removal so when lead storage containers are not ideal. Security measures can be integrated into lead lined cabinets to ensure safe storage of the radioactive materials. Padlocks may be adequate when it is simply required to store the materials behind a locked enclosure. When a more sophisticated security system is needed there are other options, such as an electronic access control system. Nuclear Shields incorporates one of these security systems in the radioactive source storage cabinet SSC1C. This lead lined storage cabinet is secured with electromagnetic locks that can be released by scanning your keytag and pressing the button for the specific drawer you want to open on the keypad. Each action is recorded in the electronic log that can be monitored remotely. Other advantages of lead lined cabinets are:
They may provide a workspace on top of the cabinet;
Tools may be integrated in the cabinet, such as dose calibrators or generators;
Hot lab space may be utilized more efficiently;
Cabinets can be made with drawers, doors, or a combination of both;
Shielded worktops may be placed on top of the cabinet to provide a full setup;
Shielded storage boxes for industrial radiography equipment
Nuclear Shields is a manufacturer of lead lined safes for storage of radioactive equipment. Our new shielded storage boxes are developed for safe storage of Sentinel NDT equipment. Gamma radiography equipment source projectors can be safely stored inside our shielded storage boxes. Some examples of source projectors for radiographic testing are the Sentinel Delta 880 and the Sentinel SCAR Pro 1075. These radiography sources range from Selenium-75 to Cobalt-60.
Lead lined cupboards for hot labs
Nuclear medicine hotlabs and radiopharmacies are often messy because of lead bricks and equipment laying on top of the cupboards. Nuclear Shields designed modular lead lined cupboards for hot labs to efficiently store your radioactive materials, instead of laying them behind lead bricks.