Available
shielding: see specifications below
lead time: approx. 12 weeks

Nuclear Shields designed and manufactures shielded casks for overpacking and transporting 200 liter drums. Information about the shielding of this shielded cask can be found in the specifications below. These shielded casks can be easily picked up with a forklift and lifted by a crane. The holes in the base construction on the bottom can be used to bolt this shielded cask to a trolley.
- Self shielded design with lead casting
- Designed for internal transportation
- Suitable for 200L drums containing radioactive waste
- Multiple handling options
Product description
Available
Internal transport of drums containing radioactive waste
These lead shielded casks are designed for transportation of 200 liter drums inside your facility. They can be easily picked up with a forklift or a crane. The entire cask including lid can be picked up with a crane by placing lifting eyes inside the outer holes. Holes are manufactured into the bottom frame to be able to mount the casks onto a trolley.
Locking the lead shielded cask
The casks can be locked by attaching a padlock through the smaller holes of the lid and cask. Alternately, bolt lock security seals can be attached through the small holes for a more secure locking of the cask. These seals have a number on them that can be used for internal logging of the seals.
---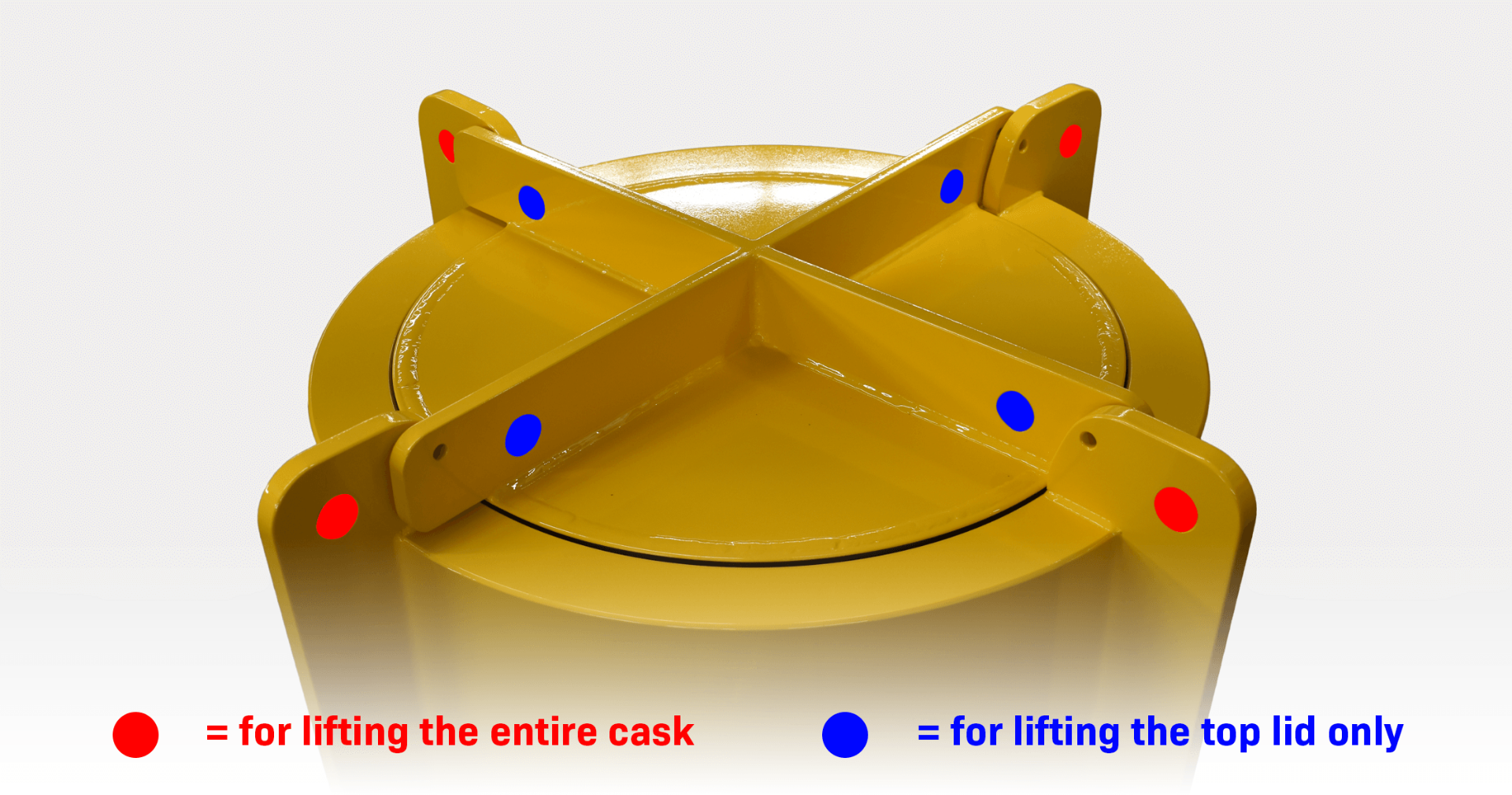 Additional information
More Information

| | |
| --- | --- |
| Finishing material | Epoxy coated steel |
| Shielding material | Lead + steel |
| Shielding thickness | 95 mm lead + 25 mm steel in sides / 72 mm lead + 30 mm steel in bottom + top |
| Outside dimensions | 1000 x 1000 x 1567 mm (w x d x h) |
| Inside dimensions | 660 x 937 mm (d x h) |
| Weight | 4570 Kg |