Shielded biological safety cabinet - Class II Type A2
Available
Shielded Biological Safety Cabinet
Biological safety cabinet shielded with lead to safely work with radioactive materials. This cabinet includes multiple useful features, such as an electronic generator lift.

For more information, see the description below or download the brochure under the tab "Product attachments".
- Sliding lead glass window
- Control the airflow inside the cabinet
- Designed for standing and sitting work
- Electrical generator lift for two generators
- ULPA filter removing 99.999% of 0.3μm particles
Product description
Available
Shielded biological safety cabinet
Nuclear Shields designed lead lined biological safety cabinet for preperation of radiopharmaceuticals. The shielded biological safety cabinet can be shielded with various thicknesses of lead for personal radiation protection. The inside of the cabinet has a stainless steel finish for easy decontamination. The Shielded safety cabinet protects personnel, products and the environment by utilizing filtration and airflow.
Lead shielding thicknesses
Working space: 5 / 10 mm
Generator compartment: 25 / 50 / 75 mm
Dose calibrator compartment: 10 / 20 / 50 mm
Waste bin compartment: 10 / 20 / 30 mm
Dimensions
Overall outside dimensions: 1.375 x 895 x 2.500 mm (w x d x h)
Stainless steel workspace: 1.190 x 645 x 620 mm (w x d x h)
Generator compartment: 240 x 475 x 380 mm (w x d x h)
Dose calibrator compartment: 175 x 415 mm (diameter x height)
Waste bin compartment: 200 x 405 x 300 mm (w x d x h)
Cabinet will be delivered according to European standard - EN 12469 / ISO 5 Air quality, CLASS 100 (FED STD 209E Equivalent).
---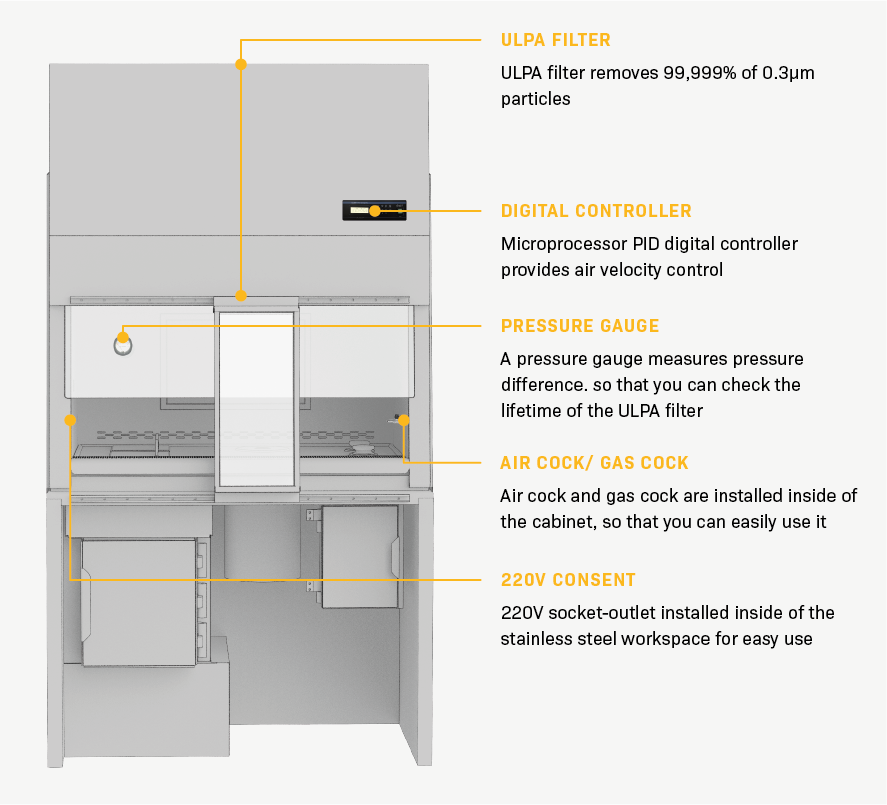 ---
Generator compartment
The generator compartment fits two Tc-99m generators. The cabinet comes standard with electronic lifts for the two generators. The two holes can be covered with lead plugs. The generator tray is attached to drawer sliders to place the generators on the tray.
Dose calibrator compartment
The dose calibrator compartment is compatible with the Isomed (Nuklear Medizin Technik), Atomlab (Biodex) and CRC (Capintec), but can be manufactured to the dimensions of any dose calibrator. The cabinet can optionally be equipped with a monitor on the inside of the working space to directly read the dose calibrator results.
Waste bin compartment
Radioactive waste produced during the preparation of radiopharmaceuticals can be disposed through the holes inside the working space. The holes can be covered with lead plugs. The waste bin compartment fits up to two waste bins.
Additional information
More Information

| | |
| --- | --- |
| Finishing material | Stainless steel / Coated steel |
| Shielding material | Lead |
| Shielding thickness | See description above or download our brochure under the tab "product attachments" |
| Viewing window | Lead glass |
| Outside dimensions | 1.375 x 895 x 2.500 mm (w x d x h) |
| Inside dimensions | 1.190 x 645 x 620 mm (w x d x h) |
Other products you might need