Big-Screw Syringe Shield 3ml
Available
shielding: 2 mm tungsten
lead time: 8 weeks

Big-Screw tungsten syringe shields with large screw at the back to easily hold the syringe steady inside the syringe shield. The Big-Screw syringe shields are shielded with 2 mm tungsten and a 5.2 density lead glass viewing window. The body of the tungsten syringe shields is finished with anodized aluminum for cleanability and decontamination. This Big-Screw tungsten syringe shield is designed for 3 ml syringes. More information about the Big-Screw tungsten syringe shield for 3ml syringes can be found in the tables below.

Please choose your required inside dimensions according to your in-house syringes in the dropdown menu below.
Product description
Available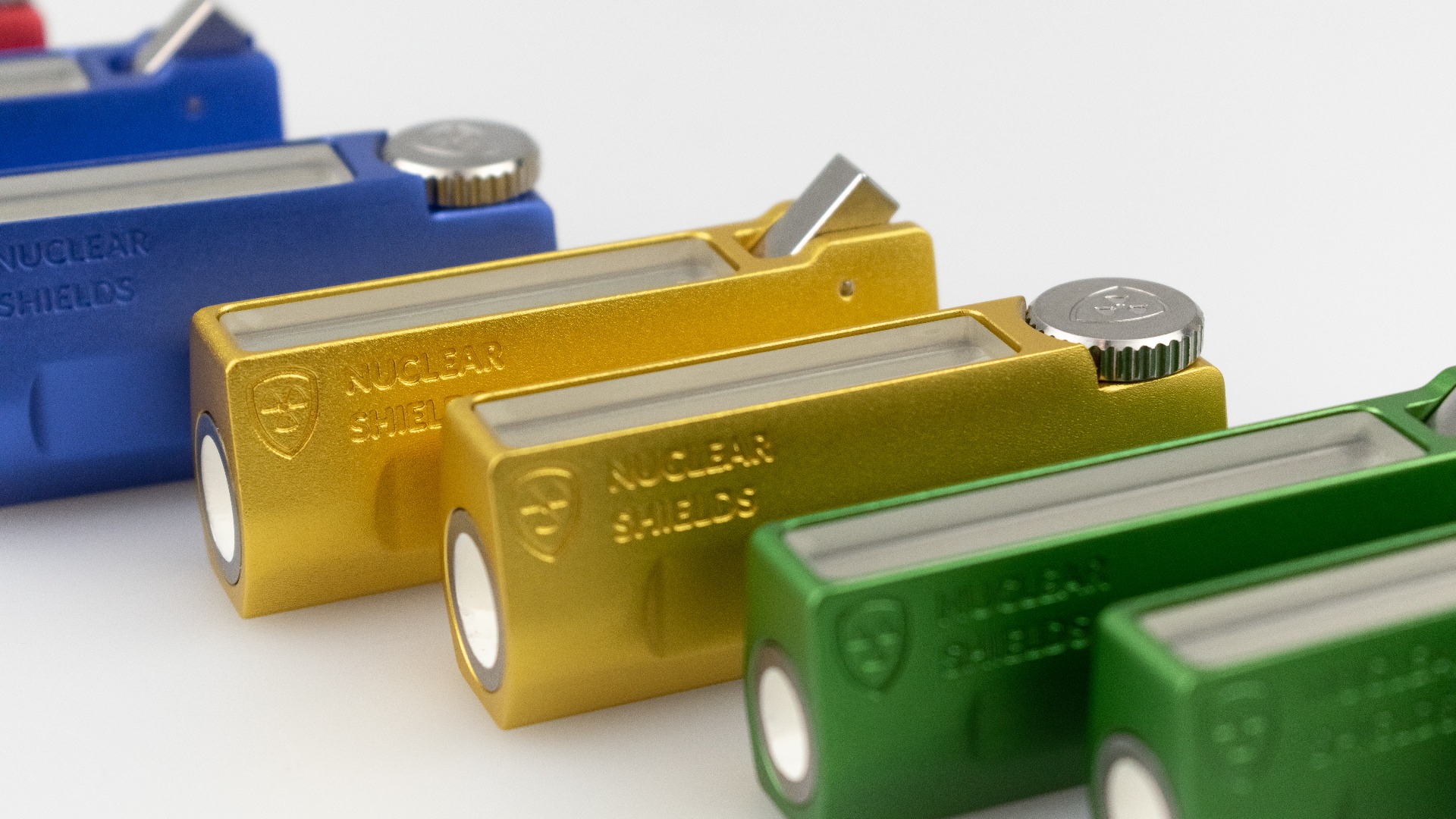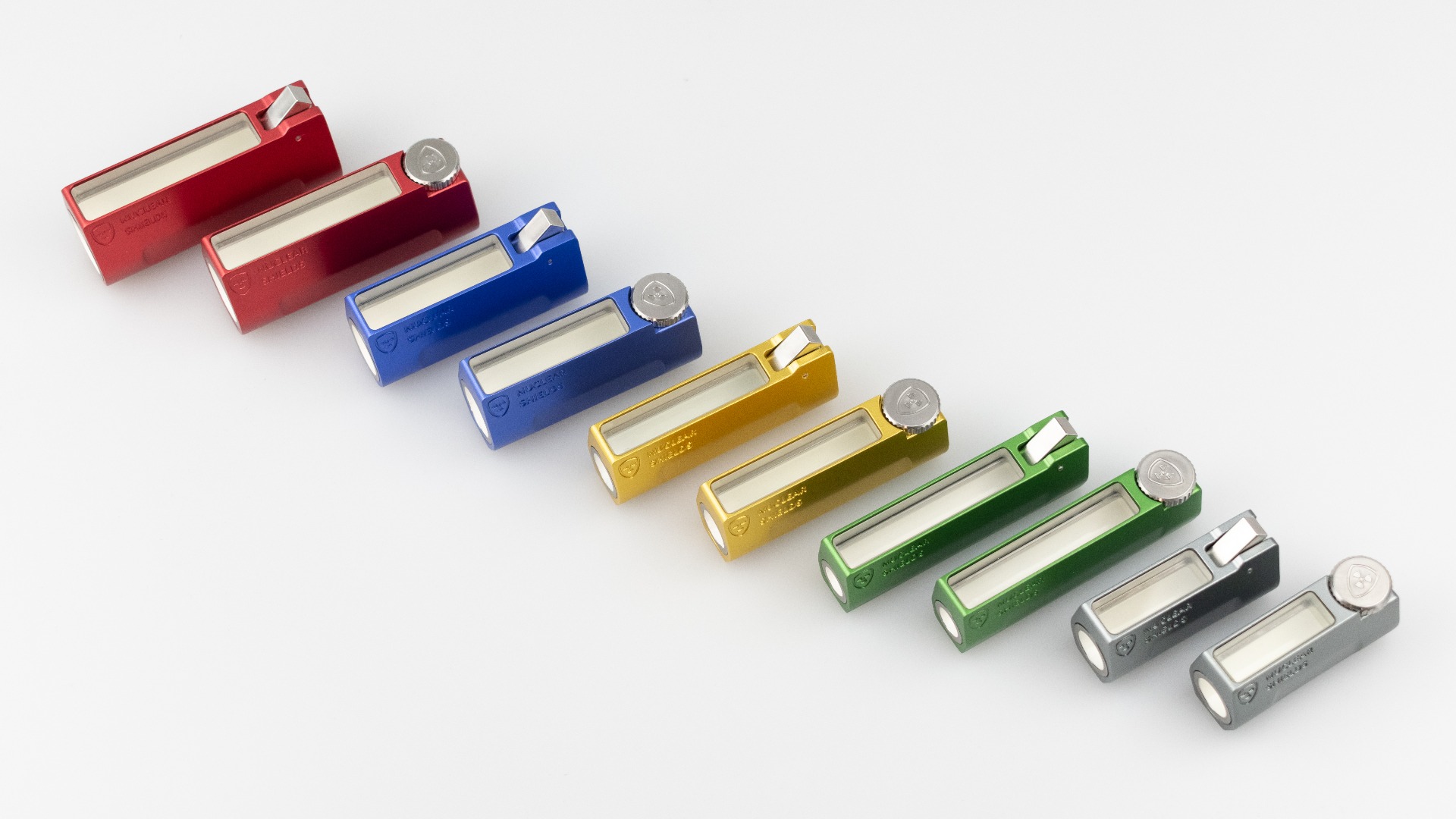 ---
Syringe shield models:
| Volume (ml) | Inner Diameter (mm) | Barrel Length (mm) | Big-Screw Model | Clip-Lock Model |
| --- | --- | --- | --- | --- |
| 1 | 8.8 | 72 | SS2BS1-1 | SS2CL1-1 |
| 1 | 8.8 | 76 | SS2BS1-2 | SS2CL1-2 |
| 1 | 11.5 | 76 | SS2BS1-3 | SS2CL1-3 |
| 2 | 11.5 | 53 | SS2BS2-4 | SS2CL2-4 |
| 2 | 11.5 | 60 | SS2BS2-5 | SS2CL2-5 |
| 3 | 11.5 | 65 | SS2BS3-6 | SS2CL3-6 |
| 3 | 11.5 | 69 | SS2BS3-7 | SS2CL3-7 |
| 5 | 15.4 | 61 | SS2BS5-8 | SS2CL5-8 |
| 5 | 15.4 | 65 | SS2BS5-9 | SS2CL5-9 |
| 5 | 15.4 | 68 | SS2BS5-10 | SS2CL5-10 |
| 10 | 18.2 | 75 | SS2BS10-11 | SS2CL10-11 |
| 10 | 18.2 | 85 | SS2BS10-12 | SS2CL10-12 |
Additional information
More Information

| | |
| --- | --- |
| Finishing material | Anodized aluminum (for optimization of decontamination) |
| Shielding material | Tungsten |
| Shielding thickness | 2 mm |
| Viewing window | Lead glass 5.2 density (48 x 12 x 10 mm) |
| Inside dimensions | 11.5 x 65 mm / 11.5 x 69 mm (diameter x length) |
| Volume | 3 ml |
| Weight | 0.20 Kg |
| Color | Gold / yellow |
Other products you might need